OUR NEWEST MEMBER SERVICE WILL DEBUT IN JUNE 2017!
Exclusive Wine Offering
Returning Sommelier Domer Rafael is currently sourcing wines from all over the world for you to enjoy at, or away from, your club. Selected wines will be exclusively available to members of the Manitoba Club and will not otherwise be available for sale within the Manitoba marketplace.
We expect to have, at any one time, between 60 and 80 different wines (i.e., reds, whites, roses and bubblies) at varying price points for you to choose from. The wines will be available for you to enjoy when at the club (with the typical $25 corkage fee or $20 corkage fee for locker subscribers), as well as when you are away from your club, as a result of our special arrangement with G.J. Andrews Food and Wine Shop. Many of the selected wines will be available in very limited quantities, while others will be more plentiful in their supply.
The exclusive wine offering will feature:
25% of featured wines in the $15 to $30 per bottle price range,
50% of featured wines in the $30 to $90 per bottle price range,
25% of featured wines in the $90-plus per bottle price range
Each wine will be displayed in the cabinet with a price point, similar to how they would be priced if sold in a private wine store or a MLCC Liquor Mart.
Private Member Wine Lockers
This is an amazing opportunity that will allow you to purchase wines from the club's ever changing wine offering and store them within a beautiful locker for future enjoyment when dining socially at the club.
Many of our exclusively selected wines will arrive to the club in very limited quantities (1 to 10 cases). Each locker will allow you to store, in a perfect temperature controlled environment, up to 9 standard 750 ml bottles. Your locker will include a nameplate that you can have engraved with your name, corporate name, or have a bin number allocated to the locker should you prefer to remain anonymous. Members that reserve a locker will receive front-of-line access when new wines arrive at the club prior to their release to the general membership. Another special benefit of the wine locker program.
There are a very limited number of lockers still available in this initial offering. We expect to have the lockers and display cabinet installed, and the new wine offering fully available, in June 2017. The capital cost for a locker is $1,000. The monthly subscription cost for a locker is $45. Locker subscribers pay a reduced corkage fee of $20 per bottle when wine is enjoyed from their locker or the wine offering.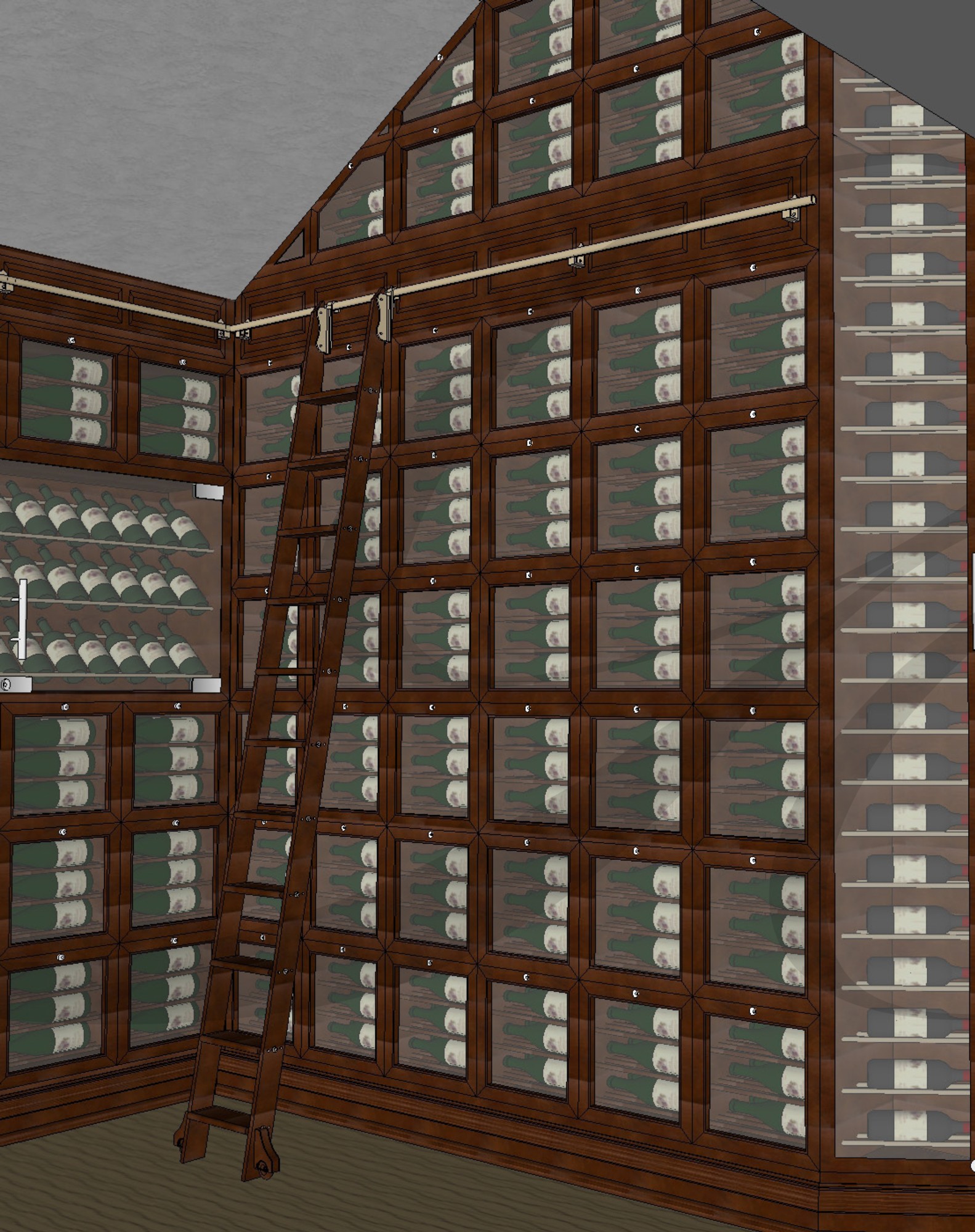 A view from the lobby of the redeveloped space.
The Coravin System
This ingenious tool allows us draw a taste, or a glass, of wine from any natural cork sealed still wine bottle. All the while perfectly protecting the balance of the wine in the bottle for future enjoyment.
How does it work? The Coravin System is placed on top of the bottle foil and a needle is inserted through the cork closure. Argon gas is released into the bottle, pressurizing and preserving the remaining liquid. The appropriate amount of wine is released from the bottle and the balance is ready to enjoy during a future visit.
How does this benefit Wine Locker Subscribers? As a special service to wine locker subscribers, we will happily draw a glass of wine with the Coravin System at no additional charge. When the bottle is fully enjoyed, your account will be invoiced the standard $20 corkage fee.
How does this benefit non Wine Locker Subscribers? Non Wine Locker Subscribers can also enjoy the Corivan system. A bottle of wine can be purchased, either from the club's by-the-bottle wine list or the ever-changing Wine Offering, and we will happily draw a glass of wine from the bottle for a $10 per glass charge.
Top 10 Reasons to Reserve Your Private Wine Locker!
Receive advance notice and first opportunity to purchase newly released wines.
Receive personalized recommendations from our Sommelier, Domer Rafael, based upon your specific taste preferences of newly arriving wines for your personal purchase or private wine locker inventory replenishment.
Store the limited available, and specially selected, wines in your locker at your club for future enjoyment ($20 corkage fee).
Select the location of your locker on a first reserved, first selected, basis.
Receive special invitations to "The Wine Club | Chef's Table" events that will feature Executive Chef Costa's incredible culinary creations paired with wines that have not yet been released for sale.
Complimentary use of the club's new Corivan Wine System – draw a taste, or a glass, of wine from any cork closure bottle while perfectly preserving the balance of the remaining wine in the bottle for future enjoyment. Please contact Domer or myself for more information relating to this amazing new system.
Receive invitations to "The Wine Club | Premium Palate" – tutored tastings of newly arriving, yet to be released, premium wines from the club's ever changing wine offering.
Have your locker's plaque engraved with a corporate or personal name plate (or private bin number, if preferred) in the lobby of your club.
Be recognized as a founder of the new "Manitoba Club | Wine" program on a bronze plaque that will installed within the wine cabinet and wine locker area.
Ensure that you have the finest wines, perfectly suited to your preferred tastes, available any time you dine at your club at a fraction of the usual marked up price per bottle.
Please contact the club's General Manager today (204-946-3500, gm@manitobaclub.mb.ca) to confirm your locker reservation or ask questions relating to this amazing Manitoba Club only member opportunity!